Connectivity to Sherbrooke
The nearest airports to Sherbrooke are:
in Canada: Montreal-Trudeau International Airport (YUL), 175 km from Sherbrooke;
in the USA: Burlington International Airport (BTV), 220 km from Sherbrooke.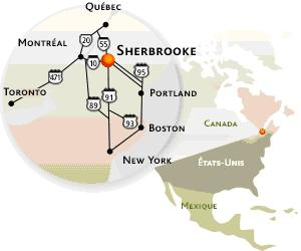 From Montreal-Trudeau airport to Sherbrooke
Aeroshuttle
This is a transportation service that coordinates multiple arrivals within a 2-hour period for the same bus trip from the airport to your hotel in Sherbrooke. You can make the reservation through: https://aeronavette.ca/en/reservation_Automatic_Control_Aerospace_2016/.
Please advise Aeroshuttle if your flight is delayed or cancelled since they adapt their bus trips to your particular arrival time.
The service is also available for the return trip from Sherbrooke to the airport (it is cheaper if you reserve the return trip).
Rented car
You may also rent a car from the airport: Montreal-Trudeau - Car rental.
Regular Bus Service
Two buses are required to get from the airport to Sherbrooke:
one from the airport to the Montreal central bus station (Gare d'autocars de Montréal): Bus 747 Express;
another one from the Montreal central bus station to Sherbrooke bus station: Limocar.
Within Sherbrooke
Sherbrooke City public transportation will be free of charge for participants.
Transportation for Industrial Visits, Technical Visits, Social Activities and Banquet is included in the registration fee.